Florida State Archives | Florida Memory Project
Vintage silent film shows Sidney J. Catts' Inauguration Day. This is a short clip. You can see the full five-minute version at Florida Memory.
Tuesday's election results beg comparison to one 94 years ago. In 1916, a political outsider who had never held public office before beat the establishment candidate by the narrowest of margins – just 9,203 votes. There is no indication that he spent his own fortune to do it, however.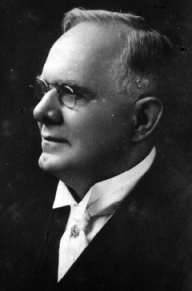 Sidney J. Catts
Sidney J. Catts, who switched parties after he lost the Democratic primary, didn't campaign with promises to create jobs. The fiery campaigner stirred anti-Catholic sentiment and pledged government reform. He would become one of the most controversial governors Florida ever had.
Catts, an Alabama native, studied law at Auburn and Howard Colleges in Alabama and received a law degree from Cumberland University in Tennessee. He practiced law for four years before becoming a Baptist minister. He came to Florida in 1912 when he got a call to a church in Defuniak Springs. Three years later, he resigned and started selling insurance, a career move that allowed him to meet a lot of people and develop the idea of running for governor.
In 1916, Catts entered the Democratic primary, irritating the establishment party bosses. Catts won by a very narrow margin, but party bosses got the Florida Supreme Court to order a recount, and Catts ultimately lost.
But Catts didn't give up easily. He switched parties and ran again as the Independent Prohibition Party candidate. It was a four-way race, with a Democrat, a Republican, a Socialist and Catts, who prevailed, winning 39,546 votes. He was the only governor in history to win solely as a Prohibition candidate. A congressman from California was the only other Prohibition politician to hold office.
Despite his anti-Catholicism and his racism (he once called blacks an "inferior race"), Catts' administration accomplished some progressive things for the time, including reforms in the treatment of convicts and the mentally ill. Labor and tax reforms and road improvements were started and Catts pushed for women's suffrage. He got a Prohibition Act passed but supported local option gambling.
Shortly after he took office, Catt returned to the Democratic Party. He could not succeed himself as governor so he ran for the U.S. Senate in 1920 but was defeated. He never held public office again but remained influential in Florida politics until his death in 1936. He was among the Democrats who worked against Al Smith's campaign in 1928. Why? Smith was Catholic. Herbert Hoover won that election.